About the Artist
a certain maverick quality in my personality often leads to whimsy, exaggeration, and deliberate misrepresentation in my work
Basket
This piece was inspired by scraps of wireform mesh and screening, lying in a heap. Grid molds in different mesh sizes were created for two of the pieces. The larger mesh size is seen in the clear base and the smaller is seen in the overlaying aqua form. The other elements were fused from gradations of colored glass frit and arranged in the 'basket'.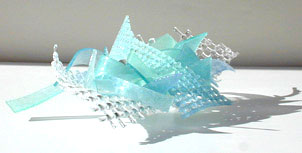 enlarge
As a glass artist, I like to experiment with the immense versatility of the media that has drawn me since first seeing a piece of art glass by Edris Eckhardt in the Corning Museum. The media was kiln-formed glass. The piece was a small panel of fused glass and it held all the promise and mystery of color, light and texture.
Dancing Muse
The piece is composed of fused glass in 3 separate pieces: an Ionic column image in front of a drapery-like piece with a dancing muse painted on the back, and a semicircular piece behind the front and middle pieces that extends the visual space. The stand is made of marble pieces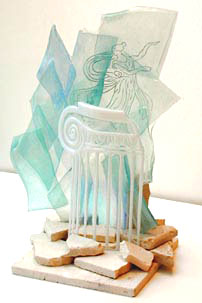 enlarge
At heart, I'm a maverick, as most artists probably are, and I like to find my own way of doing things. When I finally began the odyssey of becoming a glass artist about 12 years ago, I went against traditional art instruction and avoided looking at the work of other glass artists. I needed to find out who I was. There were many experiments and many failures, but I learned the vernacular of glass fusing, that is, creating glass art in a kiln. I also learned that I was drawn to the patterns around us.
Curves
Strong parabolic images in this piece were achieved by fusing layers of pre-fired elements together. Each element was created by fusing different sizes of ground glass (frit) together in various molds. Elements were overlaid and built up in layers for each fusing.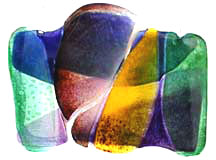 enlarge
I work with glass in several kinds of ways: by combining and melting glass frit (ground glass), using sheet glass, or creating dynamic glass forms from pot melts in my kiln. Selecting from the results, I combine layers of glass in subsequent firings to produce a final piece. I often make molds of clay and other materials on which I can shape pieces in my kiln.
Overlapping Panels
This piece attempts to explore our perception of pattern. It is composed of two, offset panels of the same pattern. The top panel displays the pattern flipped vertically.

The base panel is smooth and uses black as its background color. The overlaying panel uses clear as a base color and the pattern is raised.
enlarge
My work has been published in
Creative Glass
Danijela Krackum and Charles McFadden, Schiffer Publications, 2010
Best of America - Glass Artists
Kennedy Publishing, 2010
100 New England Artists
E. Ashley Rooney, Schiffer Publications, to be released in 2011
Candace Held
Working in my new studio in Westerly, RI, a town which I moved to recently and love for its small, art-rich community.

I exhibit regularly at The Artists' Cooperative Gallery of Westerly, www.westerlyarts.com, and create their marketing graphics.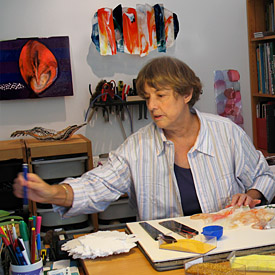 contact: