Pattern as Tapestry
when pattern is rich and intricately structured
or speaks of history or culture, it is tapestry
Sunstorm
This small, standing panel represents an amalgam of four fused glass techniques: woven glass, large home-made frit, frit painting, and pot-melts.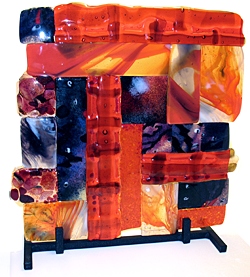 enlarge
Petal Bowl
This small bowl was created by fusing several layers of glass 'petals'. Each petal was made from ground glass (frit) in different shades and fused in petal-shaped molds.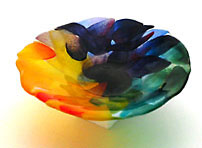 enlarge
Mindscape
Mindscape consists of two pieces: a dark blue glass frame offset from the background. The frame appears to be floating over the undulating background which is composed of rectangles in harmonic colors. The dynamic paisley pattern on the background was created by sandblasting.

Mindscape was exhibited in a juried show at the Mystic Art Center, May 2005, Mystic, CT.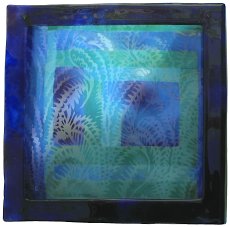 enlarge
A tapestry is as complex as its varied meanings: a fabric structure intricately interwoven, with complexity of color, design, richness, history, and symbolism.
Three Landscapes
Three Landscapes, shown in 3 panels, reduces the concept of landscape to elemental simplicity. Instead of grasses and branches obscuring the view, the view is discernible through the foliage.

The three panels were created using multiple fusings. The last layer was not allowed to fully fuse in order to create a textured effect. The panels were then reversed and the areas around the foliage were sandblasted leaving the foliage as the only clear areas.

Three Landscapes was exhibited at
The Connecticut Academy of Fine Arts 94th Exhibition 2005, Mystic, CT.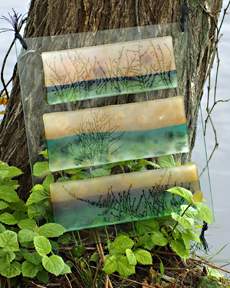 enlarge
Warrior
The main part of this piece is composed of small squares of glass fused to a base and then shaped like a corselet. The 'feathers' were fused in molds and are wired to the piece.

To create the surface squares of the armor, various colors of ground glass were sifted onto a clear glass base in a technique somewhat similar to sandpainting. The glass squares were cut from the fused sheets on the diagonal.

Warrior was exhibited at
North American Glass 2004,
Guilford Handcraft Center, CT.
and The Connecticut Academy of Fine Arts 94th Exhibition 2005, Mystic, CT.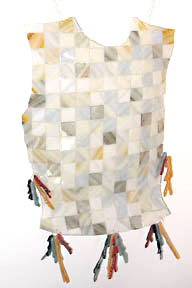 enlarge
Floating Fabric
This work is composed of two pieces of fused glass in batik patterns. Each element in the patterns was created by fusing ground glass (frit) in separate molds. The elements were then assembled with other frit to produce the final coloration and then fused together. To produce the fabric shaping, clay molds were created in which to slump the glass.

The work plays with the immutability and rigidity of glass in contrast to the flowing, flimsy 'fabric' that it mimics.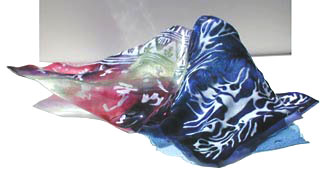 enlarge