Pattern as Kinesis
capturing motion in glass
Galaxies
Galaxies was composed of pieces cut from various pot-melts which were then fused together. The incredible swirling patterns with their layers of color are evocative of images from space. Galaxies was shown at NY Art Expo 2009".
Sanctuary
The dominant area of Sanctuary is a striking shape which was cut from a pot-melt made with warm orange reds. The surrounding ground in the piece is composed of stripes in navy and purple. Small glass pieces in white balance the composition. Sanctuary was shown at NY Art Expo 2009.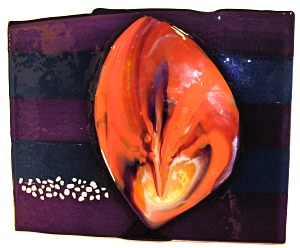 enlarge
Kinesis, a non-directional movement in response to a stimulus, such as light.
Fire Storm
Firestorm is composed of 2 pieces of kiln-formed glass. The back is a mosaic of fitted pieces cut from a pot-melt made with colors in the blue green range. The front piece of glass, in reds and purples, was the result of a single, small pot-melt. The sense of movement and fire in the front piece inspired the name. Firestorm was shown at NY Art Expo 2009.
Muse Dancing
This muse dances over a glass base of grays and whites which in turn rests atop a walnut base. The figure is made of fused glass and copper wire. Both the figure and the base were created using pot melts. The swirling, sensuous colors in the skirts of the figure enhance the lively momentum of this muse..
Falls
The kiln-formed glass piece, Falls, is composed of pieces in compatible colors cut and fused together from various pot-melts. The dynamic flow and fall of the colors in this piece inspired the name. Falls was shown at NY Art Expo 2009.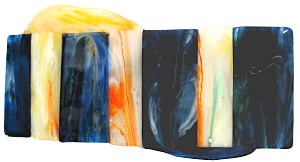 enlarge
Kinesis, a feverish movement of disintegration and disorder. (Thucydides)
Transitions
Transitions is full of opposing colors and direction. It is displayed on a wrought iron base. The glass was created using a pot melt. The milky white color swirls above and below the clear glass giving the illusion of looking through cloud-like veils.
Feathers
Feathers is composed of sections of pot-melts fused together. Part of the delight of working with pot-melts is the serendipity that can sometimes result, like the 'feathers' in this piece.Feathers was shown at NY Art Expo 2009.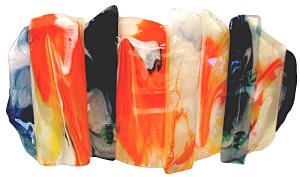 enlarge